Gail Story
and
MaryLee Rogers
of Bumpass Cove, in East Tennessee, tell the story of how a garbage dump in the mountains above their homes became an illegal hazardous waste site and how their community acted together to stop the trucks from dumping chemicals there.
Gail: "Oh mercy, five years ago, and now. Well, we was just ordinary housewives. We taught ourselves to drive. We didn't go any place that we didn't take the kids which was just to the grocery store and maybe to the laundromat. We wasn't involved in anything, not even the PTA. We didn't feel like we could donate anything. We didn't think there was anything we could do."

MaryLee: "First thing we should say: our mothers taught us to be good mothers and wives — that's it. That was our role in life, you know. That's what we was taught, and that's what we did five years ago — watch soap operas. Now I don't even get to watch a soap opera. I never see soap operas."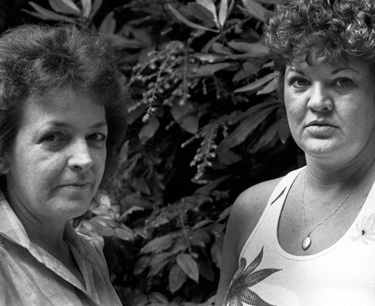 Where are they now?
Gail Story:
Today, Gail continues to gain inspiration from her work at Bumpass Cove, and works to spread this consciousness.
Mary Lee Rogers:
After raising her own family, Mary Lee and her husband have served as foster parents for over 50 children in East Tennessee.
---
---